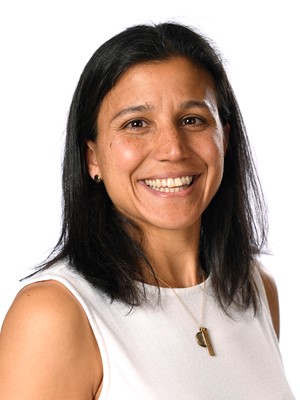 Head Coach
Belle Koclanes
Hired by Athletics Director Harry Sheehy in April 2013, Belle Koclanes is now entering her sixth season in 2018-19 as the Gail Koziara Boudreaux '82 and Family Head Coach of Dartmouth Women's Basketball.
The 2017-18 season gave a glimpse at how far this team has come in its quest for an 18th Ivy League title. The Big Green narrowly missed out on the Ivy League Tournament, but posted their best overall season and home records since 2008-09 at 15-12 overall and 9-4 in Leede Arena. Dartmouth's biggest triumphs came in wins over Boston College and Colorado, the first in program history against ACC and Pac-12 teams, respectively. Against Columbia, the Big Green set a school record by scoring 35 points in the third quarter. Senior Kate Letkewicz, an All-Ivy League Second Team selection, inked her name in the Dartmouth record books in six different categories, including 15th all-time in scoring, 12th all-time in rebounds and third all-time in 3-point field goals made. Junior Cy Lippold also had a breakout year ranking second on the team in scoring while dishing out 144 assists, second-most in a single season at Dartmouth.
During her fourth season (2016-17) at the helm, Koclanes coached junior Kate Letkewicz to her second consecutive All-Ivy honorable mention selection. The Big Green also upset Princeton on the final day of the regular season in front of a packed Leede Arena crowd.
In her third season (2015-16) Koclanes led her team to its best finish in conference play since 2009. The Big Green went 7-7 in the Ivy League good for fourth place. Under Koclanes, senior Lakin Roland earned All-Ivy First Team honors and Letkewicz received honorable mention.
In her second season (2014-15), Koclanes' squad made important progress finishing the season with a 14-14 record, the best season mark for a Dartmouth Women's Basketball team since the 2008-09 season. The 9-5 non-conference finish was also the best non-league record since the 2005-06 season. These improvements led to a jump of 158 spots in the NCAA RPI ratings. Fanni Szabo '17 earned All-Ivy Second Team Honors while Lakin Roland '16 garnered Honorable Mention All-Ivy praise.
During her first season (2013-14), Koclanes focused on moving the program forward towards its 18th Ivy League championship. The biggest improvement of the season was an Ivy win over eventual Ivy League champion Penn in Leede Arena in late February. Coach Belle instilled the program's core values of "RAP: Respect, Attitude, and Preparation" to unite this team towards a common goal.
Koclanes spent two seasons as an assistant coach and the recruiting coordinator at American, where she helped lead the Eagles to back-to-back winning records. During her first season, American posted the first undefeated Patriot League record (14-0) in conference history. One of her major contributions to the staff was the implementation of her 12-month leadership development program. In addition, Koclanes was responsible for the development of the guards as well as game strategy.
Prior to her stint at American, Koclanes spent three seasons on the staff at Old Dominion University for legendary coach Wendy Larry. During her time in Norfolk, the Lady Monarchs recorded a 56-38 overall record, including a 39-15 mark in Colonial Athletic Association play and earned two berths in the WNIT. Koclanes was responsible for the development of the guards with additional responsibilities for recruiting and game scouting.
A native of Pelham, NY, Koclanes is no stranger to the Ivy League as she started her career as the Director of Basketball Operations at Columbia University during the 2003-04 season before spending four seasons as an assistant coach at the University of Pennsylvania. During her tenure at Penn, Koclanes assisted in all aspects of recruiting, scouting, on-court coaching and game preparation.
Before entering the coaching ranks, Koclanes spent the 2002-03 season playing professionally for Panserraikos in the Greek Basketball League.
A three-year captain at the University of Richmond, Koclanes finished her collegiate career as the Spiders' career assist leader (793) and was an All-America nominee and a Naismith Award candidate (National Player of the Year). Growing up in a big Italian family, all Coach Belle knows how to do is share, which is evident in her assist numbers as a point guard. She led the conference in assists all four years and averaged 7.37 assists per game during her senior campaign (4th best in the NCAA). She totaled 30 games of 10-or-more assists in her career and had an astounding 22 Career Double-Doubles. Always looking to improve, Koclanes broke Richmond's program assists mark each year of her career (160, 204, 208, 221) in addition to finishing her career with 1,205 points.
Koclanes was also invited to The Center for Coaching Excellence, which is a two-day elite leadership-training program that provides an unparalleled exclusive learning experience for coaches of women's basketball.